A DOZEN (FUNNY?) IMAGES FROM TWO OF THE 1951 'FESTIVAL OF BRITAIN' FILMS
"BRIEF CITY"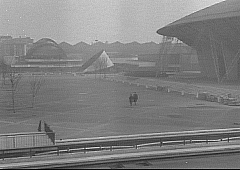 H.Casson to P. O'Donovan: "What about us doing the same again in North Greenwich at the turn of the century?"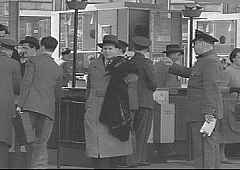 Uniformed attendant (right) to young man going through South Bank turnstile: "You can't come in here without a hat on!"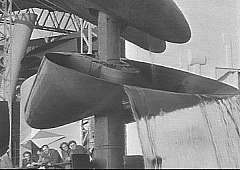 North of England people: "They've got no sense down south - just think of t' coal you could store in them buckets!"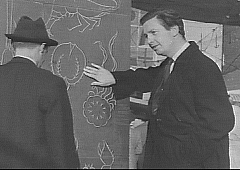 P. O'Donovan (right) to H. Casson: "After drinking all that wine, you started drawing jellyfish - not pink elephants!"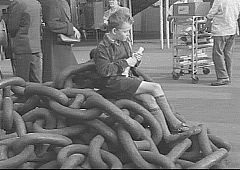 Small Boy: "My Dad said 'Sit on that great big pile of prize-winning Rossendale Black Puddings until I get back!' "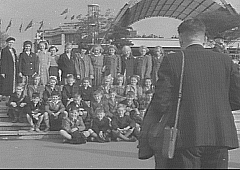 Sheffield schoolteacher to class: "Now say cheese! Hattersley, stop that and take your hands out of your pockets.."
"FESTIVAL IN LONDON"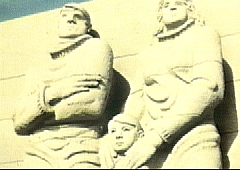 ?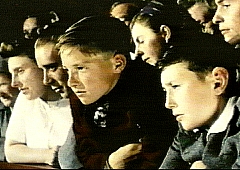 Young man watching lathe operator (below): "When I write a computer program to replace him, I can retire early!"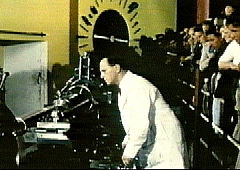 Man on the big lathe thinks: "50 years time, they'll have a bloody computer doing this kind of work and I can retire!"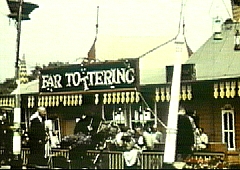 B.R. Stationmaster on right: "Just imagine in 50 years time, I'll still be waiting for 'Railtrack' to straighten that T!".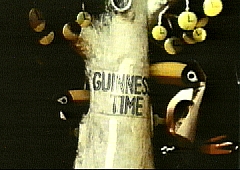 Thespian Toucans: "Actually luvvies we hate the black stuff, but it's 5 months work between other engagements!"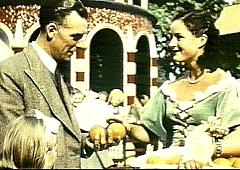 Man (on left) says to a smiling 'Nell Gywne': "When you said I could squeeze a lovely 'pear', I thought you meant...."
IF YOU THINK YOU CAN DO BETTER, PLEASE E-MAIL YOUR CAPTION: martin@packer34.freeserve.co.uk
---